Sales enablement isn't a new term, but it continues to trend in the retail world. Since shoppers have returned to stores, many retailers recognize their past sales enablement strategies don't match customers' new behaviors and expectations today.
HubSpot defines sales enablement as follows:
Sales enablement is the iterative process of providing your business's sales team with the resources they need to close more deals. These resources may include content, tools, knowledge, and information to sell your product or service to customers more effectively.
Retail managers understand it's more important than ever for their associates to have access to as many resources as possible to meet customers where they are in the buying process and generate sales.

Interacting with the Informed Customer
Where customers once felt overwhelmed by information, many now feel more empowered to make better buying decisions. One survey indicated 68% of the people surveyed said that access to information makes them feel more qualified to make informed purchase decisions.
Shoppers have access to everything from reviews to product comparison data. Those tools enable your customers to ask better questions, request specific information, and have more meaningful conversations with your employees.
But what about your employees? Do they have access to the tools and resources they need to engage with customers in meaningful and successful ways?
Hopefully, you have a well-designed sales enablement strategy to ensure your customer-facing employees have what they need to deliver informed, exceptional experiences to those shopping in your stores.

Defining Your Sales Enablement Tools
Associates should be focused on solutions that solve the customer's challenge or meet their needs versus simply selling a computer. By taking a holistic and strategic approach to sales enablement, your team will have the resources and technology to guide the customer to the right solution.
Sales enablement is a complex process with an ever-evolving structure. However, there are four main tools that your associates will need to succeed.
1. Content
Quick and easy access to relevant product and sales content is a must. According to one survey, 58% of shoppers use their smartphone to check out product information while in the store. This means you should have the latest details readily available.
Provide up-to-date content about products, store and product manufacturer promotions, sales tips, and more. Be sure to remove any outdated content. Otherwise, that well of information could end up causing more confusion among associates and customers.
2. Measurement
Ultimately, sales enablement aims to improve productivity and generate more sales. But how do you know it's working if you can't measure its effectiveness?
Measurement is a crucial part of sales enablement that helps your team continually improve. You can determine baseline metrics and strive to see progression across the board. Some of the top Key Performance Indicators (KPIs) to measure include:
Average transaction value
Average sales per trained associate
Hero mix sales
Content usage
In-store vs. online premium SKU sales
Quota attainment
Inventory turnover
Training content consumption
These are just a handful of possible metrics to consider. Whatever you use, adopt a standardized reporting system, and make the measurements available to your team for review.
3. Technology
A couple of decades ago, sales enablement was a primarily analog and manual process. Today, your employees can have a wealth of information at their fingertips. Engaging online learning platforms and content distribution systems give your team a competitive retail edge as they move customers through the buyer's journey.
Sales enablement technology helps your associates access the most pertinent information they need to improve the customer experience and close sales. Misalignment between sales and marketing teams is a massive barrier that can disrupt your store's bottom line.
The right technology can empower your retail associates to communicate with customers effectively while providing them with the most pertinent information they need to make a purchase. From instructional materials about products to sales scripts and tools for use on the sales floor, sales enablement technology ensures that it's all there for the taking.
4. Training
There's no better way to empower your team than through in-depth and continual training. We're not talking about basic rundowns or quick fact sheets. Ongoing retail sales associate development is one of the significant pillars of sales enablement.
Customers rely on associates to help them choose the best computer for their needs. They also have high expectations when it comes to their in-store shopping experiences. They want memorable and helpful experiences at every touchpoint.
Your retail associates need actionable information that easily adapts to every customer that comes their way. Training helps develop those all-important retail skills while making your team product experts that shoppers can trust to guide them in the right purchasing direction.

Support Your Retail Associates and Accelerate Sales
A solid sales enablement strategy can lead to measurable change in your stores. When sales associates have the appropriate tools, training, and support, they're better equipped to pair shoppers with the right products.
The Intel® Retail Edge Program is a successful platform and community you can leverage in your sales enablement efforts. We empower and engage your team through bite-sized trainings, interactive courses, engaging articles, competitions, community discussion boards, and more. Regularly updated content keeps your associates well-informed about the latest Intel® processors and the PCs they power.
Learn more about the Intel® Retail Edge Program today and see how it can enable your associates and improve sales.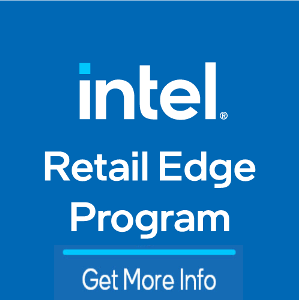 Notices and Disclaimers
© Intel Corporation. Intel, the Intel logo, and other Intel marks are trademarks of Intel Corporation or its subsidiaries. Other names and brands may be claimed as the property of others.