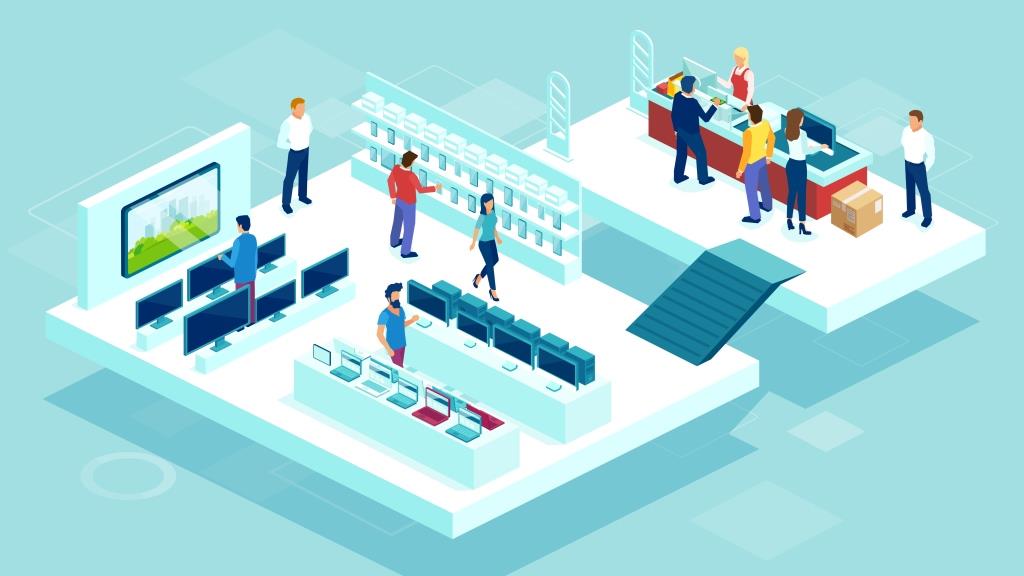 Computer retail sales associates need a wide range of skills to effectively and successfully interact with customers. The retail market has experienced many changes, yet one thing has remained constant. Shoppers rely on sales associates to recommend the right products for their needs.
With the continued growth of the technology sector, sales associates must possess a skill set beyond general technical knowledge to build a solid relationship with customers.
Two Types of Skill
There are two basic categories in which sales skills fall: soft skills and hard skills. Both are learned abilities, and the line between them can often become hazy. Yet, the primary difference lies in how one acquires the skills.
Soft skills are personality traits or habits developed through life experiences. They refer to the behavioral tendencies, attitudes, and mindsets of sales associates and relate to how they connect with others and perform common tasks.
One develops hard skills through a formal setting like a seminar, mentorship, academic institution, or training program. These skills include technically-specific and role-critical abilities that allow the associates to carry out specific functions.
Soft Skills for Retail Sales Associates
While soft skills are not job-specific, they are in high demand in a retail setting. These traits and abilities primarily determine how you work with and relate to others. Even though soft skills are generally viewed as interpersonal attributes, they can still be fostered and learned.
Relationship Building: This skill requires a genuine desire to help and the ability to establish a rapport built on trust.

Communication: Good communication skills are essential, and some consider them the foundation for success in retail sales. Your associates will communicate with many different types of customers and fellow employees alike.

Critical Thinking: The ability to evaluate, analyze, and think objectively allows associates to take what they know and recommend a solution to meet a customer's needs.

Interest in Technology: Associates must be interested in and comfortable with the technology they are selling. If this doesn't come naturally, time must be spent to develop it.

Teamwork: Success on the salesfloor requires everyone to work as a team. The ability to work and collaborate with fellow associates is a must.

Self-Motivation: That internal engine that drives an associate to succeed allows them to handle rejection with grace, work under pressure, and exceed expectations.

Coachable: Being open to new ideas and willing to learn is essential in the ever-changing industry of retail computer sales.

Adaptability: Associates must be able to adjust to whatever arises on the salesfloor. The ability to adapt at a moment's notice can be the difference between closing a sale and losing it.

Empathy: Associates who understand things from customers' perspectives have a better chance of addressing their wants and needs and delighting them with the right product recommendation.
Hard Sales Skills for Retail Sales Associates
Hard sales skills are the backbone of retail. Without adequate training in these areas, the path to success for associates is fraught with speed bumps and potholes. Investing time and energy into training programs for these skills results in a significant return on investment in the form of increased sales.
Product Knowledge: Sales associates should possess a deep understanding of the products they sell. Many shoppers come to stores armed with information about the latest computers. It's up to associates to know more than their customers to recommend the right device.

Sales Tool Competence: Retailers and their partners utilize an assortment of apps, platforms, software, and other tools to make selling easier. Knowing how to use these tools effectively will increase productivity, sales, and customer engagement.

Active Listening: Associates must hear what customers say to ask the right follow-up questions that lead to the best computer recommendation. As Burr said to Hamilton in the hit musical Hamilton, "Talk less, smile more." Learning to stop selling and start listening is an essential skill that leads to better customer experiences.

Business Awareness: Associates need to understand the brand. This includes topics such as the products sold, the types of customers who use them, merchandising, inventory, product ordering, and industry trends.

Customer Service: Few things can sour a shopper on a brand quicker than poor customer service, and it only takes one bad experience. Customer-facing associates must understand the components of excellent customer service and company policies to offer solutions when problems arise.

Sales Skills: Sales is more than merely product knowledge. It encompasses many of the skills listed above, plus others such as converting shoppers to loyal customers, relating product features to customer benefits, and closing sales. Associates need solid sales skills, ideally before acting alone on the salesfloor.
The Bottom Line
Regardless of how innovative technology becomes, skilled associates will continue to be the driving force behind retail sales. Talent remains the single most valuable asset of any sales organization, and nurturing that talent is the surest way to guarantee success.
More than ever, customers are searching for highly-capable computers to meet both professional and personal needs. Your sales associates with the right skills will be best able to help them.
The Intel® Retail Edge Program is a robust online community that helps retail associates learn about the latest Intel® products and technologies and provides sales tips and tools for use on the salesfloor. Discover how participation in the Program can help your associates generate more sales for your store.
Visit the Intel® Retail Edge Program website.
Notices and Disclaimers
© Intel Corporation. Intel, the Intel logo, and other Intel marks are trademarks of Intel Corporation or its subsidiaries.
Other names and brands may be claimed as the property of others.