We all strive to simplify daily tasks, whether finding a faster or less stressful way to work or meeting our shopping needs quickly with less hassle. Retailers who recognize this universal need in their customers provide ways to speed up and facilitate customer in-store shopping journeys.
Customers can access digital tools for researching products, such as retail websites, social media, and review sites. These enable shoppers to research laptops, desktops, and peripherals at their leisure.
However, statistics show that customers still prefer shopping in physical stores where they can touch and feel products before buying. This is something that online-only retailers cannot offer.
Knowledgeable sales associates are essential to this in-store shopping advantage, particularly for PCs and other technology products. One thing almost everyone understands is the speed at which technology changes.
Customers rely on associates to know the latest information about the desktops and laptops for sale in your stores and which can best meet their needs.

Keep the Sales Process Simple
Online research offers customers flexibility and control. Brick-and-mortar retailers should try to emulate this in-store to keep the shopping and sales experiences from getting complicated.
Well-prepared customers can become impatient and frustrated when sales associates are not sensitive to their level of product knowledge. Lengthy and perhaps irrelevant explanations about computers and other products on store shelves, which the shopper has already discovered for themselves, often don't lead to wholly successful interactions.
At best, the associate likely killed add-on sales as the customer is now itching to get to the checkout. At worst, the customer leaves to complete their entire purchase online.
For customers without existing product knowledge, it's critical that sales associates help them narrow down the selection and find the perfect product for their needs. They must know the relevant questions to ask about budget, features, and usage.
Well-trained associates keep customers engaged while progressing toward the sale.

Automating the Shopping Journey
Streamline the PC shopping experience the moment customers enter your store. Digital solutions help retail stores automate processes and close the gap between online and in-store experiences. Examples include:
Digital signage

Cashless payment

Intelligent kiosks

Smart shelves
Speeding up the shopping experience is further enhanced by providing sales associates with the ability to process payments on the spot, access up-to-date inventory information, set up product delivery, or process returns.

Delight Customers with Well-Trained Associates
A well-trained sales associate who can effectively answer questions, validate preferences, and close the sale is vital to customer satisfaction. An effective, efficient, and engaging in-store experience allows customers to feel welcomed, heard, and ultimately satisfied.
The Intel® Retail Edge Program provides training on Intel® products and technologies and helps your associates gain the knowledge and skills needed to foster positive and successful customer shopping experiences.
Find out how employee participation in the Program creates more successful shopping journeys for your customers and more success for associates on the salesfloor.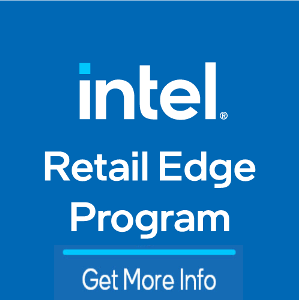 This article has been updated and originally appeared on the Intel Retail Edge Program.
Notices and Disclaimers
© Intel Corporation. Intel, the Intel logo, and other Intel marks are trademarks of Intel Corporation or its subsidiaries. Other names and brands may be claimed as the property of others.