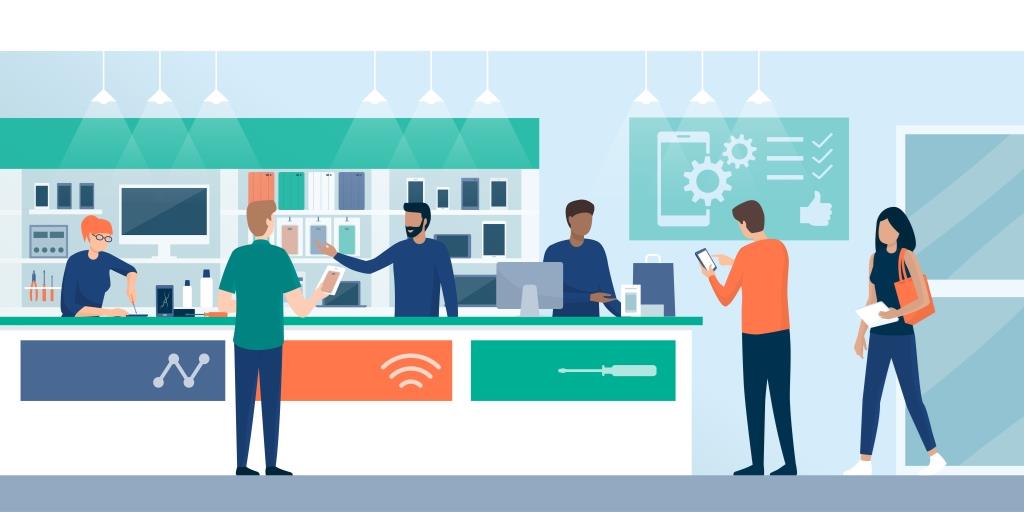 Online computer and other tech sales saw a sharp increase in 2021, and while many shoppers still prefer to shop in person, keeping customers engaged is paramount.
Here are six tips for driving customer engagement in your store.

1. Take Advantage of Technology
Have you ever considered how mobile technology shapes how we shop in physical stores? According to a report by Mercator Advisory Group, many shoppers use their smartphones in-store to research products on the spot. They also use them to compare prices, read reviews, and more.
It's an important asset that you can use to boost engagement. Instead of shying away from technology, embrace it!
There are many ways to fuse digital technology with traditional retail shopping. Interactive kiosks, social media integration, and dedicated apps can enhance the shopping experience. Meanwhile, marrying in-app shopping with curbside pickups can streamline the process and provide a lot of conveniences.

2. Prioritize the Customer Experience
The overall customer experience is essential for shoppers. While they're more independent than ever, consumers still value face-to-face interaction. Ultimately, it can make or break a brand.
According to PWC, about 73% of all customers say that experience is a driving factor when making purchasing decisions. Another survey from Zendesk shows that it only takes one poor encounter for 50% of shoppers to switch brands. After more than one issue, 80% say they'd go to direct competitors.
Your sales team should provide the best service possible throughout the buying process. When shoppers enter your store, they need to feel welcomed and valued. Otherwise, you can lose potential sales before a single interaction occurs.

3. Invest in Your Sales Team
Your sales associates are the face of your company. They're the first direct interaction shoppers have with your brand in many cases. To maximize sales and keep your customers engaged, you must invest in your team's success.
This means providing continual support and ongoing opportunities for impactful retail training and development.
Training can:
Empower employees
Boost confidence
Increase productivity
Enhance product knowledge
Improve employee retention rates
Create a competitive edge
Boost morale
More importantly, is its effects on customer engagement. Well-trained associates are better equipped to shape the shopping experience. Your team can learn how to interact with customers effectively, guide them to the right purchasing decision, and leave a lasting impression.

4. Adopt Sales Enablement Strategies
Another way you can support your sales team is by adopting sales enablement strategies.
Sales enablement makes it easy for your associates to provide personalized care to every shopper they encounter. Mobile devices and retail sales tools, like the Intel® Retail Experience Tool (Intel® RXT), can grant access to effective sales content, product data, and more on the fly.
It's a great way to serve customers quickly and efficiently while giving them the experience they want.

5. Fine-Tune Customer Touchpoints
A touchpoint is every interaction a shopper has with your store along the buying journey. People make buying decisions based on the entire process, not a single sales point.
Everything from your store layout to fact tags can have an impact. According to MVIX, digital signage has an 83% recall rate. Furthermore, it can effectively improve brand awareness by more than 47%.
Taking the time to fine-tune what your audience sees and experiences can dramatically improve engagement during and after the visit.

6. Create Memorable Moments
One great way to keep customers engaged is to create memorable moments that can only occur in your store. While online shopping has its perks, there's not much you can do beyond digital media.
However, the sky's the limit with retail stores. Throw events, invest in innovative technology, and offer something that no other store can! Several retailers have utilized out-of-the-box campaigns to stand out. They make the news, go viral on social media, and keep customers coming back.

Keep Your Customers Coming Back
Sales and promotional periods are great for attracting short-term attention. However, keeping your customers engaged is necessary if you want to build your brand and stand out from the competition.
Customers need a reason to return. With the help of technology and your sales team, you can create memorable shopping experiences that stick!
Check out the Intel® Retail Edge Program and see how it can empower your team to engage customers throughout their visit. The Program offers trainings on the latest Intel® products, technologies, sales strategies, and more.
Our robust online community and training platform give your associates the tools they need to create an enjoyable shopping experience for your customers and sell more devices.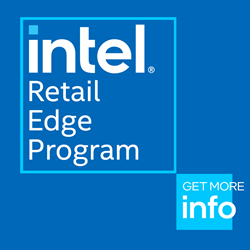 Notices and Disclaimers
© Intel Corporation. Intel, the Intel logo, and other Intel marks are trademarks of Intel Corporation or its subsidiaries. Other names and brands may be claimed as the property of others.