Even with online shopping and its Cyber Monday, Black Friday has long been a tradition for many shoppers and continues to be the biggest shopping day of the year for retailers.
Black Friday is almost here. Is your sales team ready to handle the customer rush as the holiday season kicks off?
Tech Products Among Top Holiday Gifts
A report from Deloitte indicates retail sales will see a 7%-9% increase during the holidays, with brick-and-mortar retail stores remaining the channel of choice for shoppers.
Once again, PCs, peripherals, and other tech products are expected to be top gifts this year. From feature-packed Intel® Evo™ laptops to sleek gaming rigs, computers with Intel® processors are sure to make the perfect gifts.
Here are a few things you and your sales team can do to maximize Black Friday sales and win customers for the entire holiday shopping season and beyond.
1. Put Your Best Foot Forward
Although many Black Friday shoppers search for deep discounts, they're also looking for new, exciting PCs to give as gifts or to purchase for themselves.
Using these popular computers in pre-sale advertising and signage is a strategic move that can net positive results. Even if they're discounted from full price, these products represent an upselling or cross-selling opportunity for well-trained sales associates.
2. Train Your Team for the Big Day
To maximize Black Friday success, associates should be educated about the product lineup and any advertised deals. In addition to in-store training initiatives and special staff preparations, your team should be up to date on the latest PCs and accessories and know how to sell them effectively.
Take time to speak individually with associates to see if they have any last-minute concerns or questions about products or customer interactions. Some employees may be hesitant to initiate this type of conversation with their managers, but when asked directly, they often feel more comfortable opening up to ask their questions.
3. Optimize the Customer Experience
Customers crave a smooth, engaging shopping experience, and sometimes this can be challenging on such a huge shopping day. Use available technology such as point-of-sale (POS) systems, mobile beacons, or QR codes.
Encourage associates to take advantage of sales tools such as the Intel® Retail Experience Tool (Intel® RXT) to engage customers right on the salesfloor and guide them to the best PC for their needs.
4. Implement Contingency and Safety Plans
Retail managers know just how hectic this day can get. Black Friday often finds shoppers competing for great deals and stores scrambling to keep shelves stocked.
Almost every year, you can turn on the nightly news and see a video of a customer brawl or a stampede occurring somewhere. Ensure your store operates smoothly with contingency plans for unexpected situations like server crashes, employee no-shows, and out-of-stock items.
5. Highlight Post-Black Friday Deals
Black Friday is just one day in the Black Friday weekend. Many shoppers skip the crowd on the Friday after Thanksgiving by shopping on the ensuing Saturday or Sunday.
As you prepare your store, advertise deals that will last the entire weekend and throughout the remainder of the holidays. Associates should communicate this to customers as well.
Since many customers make multiple trips during the holiday season, running post-Black Friday deals is a great way to capture additional revenue and get shoppers back in the store.
Retail Ready for the Holidays
Being prepared, knowledgeable, and well-stocked are all crucial factors in retail success, particularly the biggest shopping day of the year. Are you and your staff ready?
Use these remaining days leading up to Black Friday to ensure your sales associates are equipped to handle whatever the day has in store for them and that everything is in place to have your best Black Friday ever.
The Intel® Retail Edge Program provides your team with engaging training content, helpful resources, and tons of rewards. They'll learn about the latest Intel® products and technologies and tips for effectively selling to your specific customer base.
Find out more about how participation in the Intel® Retail Edge Program benefits everyone in your organization.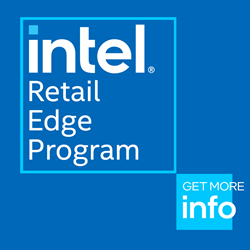 This article has been updated and originally appeared here on the Intel® Retail Edge manager blog.
Notices and Disclaimers
© Intel Corporation. Intel, the Intel logo, and other Intel marks are trademarks of Intel Corporation or its subsidiaries. Other names and brands may be claimed as the property of others.