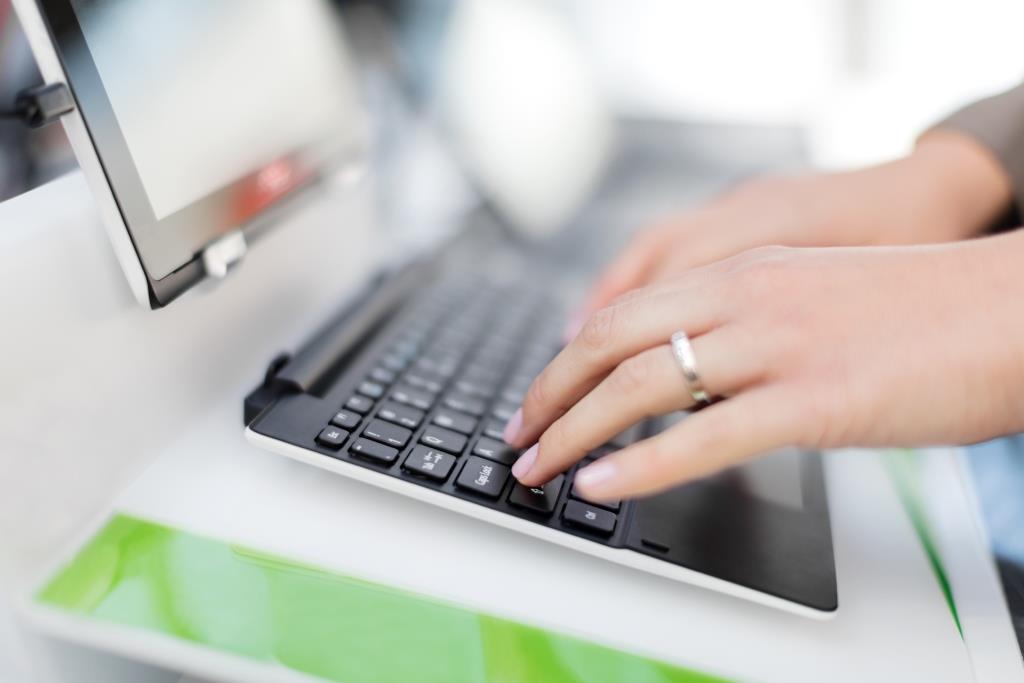 With more and more people looking online to find the best deals on tech products, retailers must incorporate innovative methods to not only attract but engage customers to increase store sales.
Here are six tips to help you and your sales associates reach and engage with shoppers who come to your store in search of the latest computers and other tech products.
1. Create Greater Visual Appeal
Designing your store's layout and messaging to promote easier and more intuitive shopping streamlines the experience for your customers. Incorporating eye-catching visual designs in strategic locations throughout the store can go even further toward helping you attract and retain customers.
From bold messaging to interactive endcaps, visual merchandising makes a big impact on in-store customers. Today's technology such as digital signage allows you to engage customers with creative, visually appealing, and targeted messaging to highlight product information, promote sales events, and launch new marketing campaigns.
2. Maintain Inventory of Popular Computers and Tech Accessories
One of the biggest advantages of in-store shopping over online shopping is instant gratification. Shoppers can pick up items right away rather than waiting a few days for shipping from an online vendor. They also get to bypass those shipping fees. Failing to keep an adequate stock of popular computers and peripherals can negate this advantage.
The option to buy online, pick up in-store (BOPIS) has seen a sharp increase. One recent survey found that 43.7% of the top 500 retailers with brick-and-mortar stores offer BOPIS. This convenient option is another way to increase in-store foot traffic and create other buying opportunities for customers.
Be sure the most popular products are always in stock and that your sales associates have immediate and accurate inventory information.
3. Provide Personalized Service
Technology has created access to more customer data than ever, but nothing replaces the personalized experience that occurs between a customer and the sales associate. Your sales team should be armed with the knowledge, skills, and tools necessary to create an individualized experience for each customer who shops in your store.
Participating in a high-quality product and sales training helps your associates provide customized advice and guidance to each shopper based on their individual needs. Incorporate sales tools that can be used right on the salesfloor with customers. A great example of one such tool is the Intel® Retail Experience Tool (RXT). The RXT offers easy-to use-demos, quick videos, and more that associates can use to interact with customers and create those customized experiences on the way to finding their perfect computer.
4. Take Advantage of Tech Trends
The list of new, popular technologies is rapidly increasing, and consumers are eager to learn more about them and own the devices that offer these experiences. Be sure to showcase the latest, most popular desktops, laptops, 2 in 1s, and other tech products so shoppers can easily locate them. By showcasing these products, you can attract more customers and take advantage of the current interest in the latest computers and technology trends.
New laptops and desktops with Intel® processors and technologies deliver so many possibilities. Technology changes rapidly and associates must be knowledgeable about the latest computers and their capabilities. Today's customers are armed with plenty of information and want to discuss what they know, and have it validated or disproved by your sales associates.
5. Incorporate Mobile Strategies
Mobile devices are heavily used by in-store shoppers and are increasingly altering the way customers shop and retailers sell. While in stores, customers use their mobile devices to find product information, to comparison shop, to look for reviews on products and individual retail stores, to check out and pay for products, and more.
By tapping into this market with apps and mobile-only promotions, you can better interact with these customers and motivate them to buy while in the store. You'll have added opportunities to promote in-store sales and to make real connections with your current and potential customers.
6. Provide Immersive Experiences
One of the most effective ways to help your customers make more informed decisions and get them excited about buying products is to provide them with in-store technologies such as the RXT, computer demos, or intelligent kiosks that offer immersive shopping experiences and details on the products available at your location.
This promotes greater confidence and increased interaction among your customers while providing your associates with an additional sales tool that can fill in any gaps in their knowledge of your product lines.
Establish Your Store as the Authoritative Source
By incorporating these types of strategies, you can attract more customers, while establishing your store as an authoritative source for information and guidance on computers and other tech products.
Find out how the Intel® Retail Edge Program can play an important role in helping you and your sales team better engage your customers.
Visit the Intel® Retail Edge website.
This article originally appeared here and has been updated for freshness and accuracy.
Notices and Disclaimers
© Intel Corporation. Intel, the Intel logo, and other Intel marks are trademarks of Intel Corporation or its subsidiaries.
Other names and brands may be claimed as the property of others.