One of the best ways to empower your sales associates is to give them access to information and tools that educate them about the products you are asking them to sell and how to present them to customers best.
The benefits of associate product knowledge impact almost every facet of the retail business, from store revenue to customer loyalty. Here are three areas that are highly impacted by the product knowledge level of retail sales associates.

Customer Satisfaction
Lack of product knowledge by sales associates frustrates shoppers, increases customer dissatisfaction with the retail brand, and is a big reason they leave a store without purchasing any items. One report shows that 80% of customers will leave a store after one disappointing experience.
Technology retail sales is not a one-size-fits-all solution. No two PCs are exactly alike, and neither are two customers. While one computer may work perfectly for one customer, there may be better choices for another.
A knowledgeable associate is better equipped to recommend the correct device to fit the customer's needs. This creates a happier customer and a better shopping experience.
With a knowledgeable sales team, you will ultimately improve the rate of customer satisfaction, brand loyalty, and repeat sales.

Customer Communication
Communicating with customers is an essential sales skill and, most often, an acquired skill. Associates may know a lot about the products but don't necessarily have the sales skills to translate that information to the customer as a benefit.
Soft sales training can help with this and other skills, such as helping associates understand:
How to approach customers
How to uncover customer needs
How to upsell and cross-sell
Knowledgeably and competently communicating with customers is one of the best ways to build relationships and trust. When this happens, associates become your best sales and marketing tool for repeat business and customer loyalty.

Closing the Sale
Closing the sale is much easier when associates know about the products. With product knowledge, they will find it easier to relay the necessary information to assure the customer that the product is right for them.
With the proper training and knowledge, sales associates can present the PC's best features accurately and persuasively. They can also showcase their enthusiasm for the laptop or desktop, which the customer will respond to and appreciate.

Employee Growth
One way managers can encourage employee growth is to support their efforts to gain new skills and knowledge. When sales associates feel their managers have a genuine interest in them as employees and people, they tend to want to improve their skill set and create more success for themselves and their team.
It takes time to develop a solid knowledge base about your stores' available PCs. Praise, reward, and find ways to encourage and inspire your associates to stay the course. As they develop more product knowledge, they become stronger and more confident in their skills and capabilities.

Create Better Associates and More Sales with Employee Training
Ultimately, associate knowledge has a direct impact on sales revenue. Lack of product knowledge by sales associates is frustrating to shoppers, and it's a big reason they leave a store without buying and increases the odds that they won't return.
Understanding the benefits of ongoing product training and encouraging your sales team to take advantage of available programs will help create success for them, for you, and for your customers.
The Intel® Retail Edge Program supports the training efforts of retailers by providing a fun and engaging way for associates to learn about the latest Intel® products and technologies. They also learn sales strategies and tips to engage with customers and utilize interactive tools such as the Intel® Retail Experience Tool (Intel® RXT) for recommending the perfect PC for each customer.
Get more information about how the Intel® Retail Edge Program can help your associates create greater store success.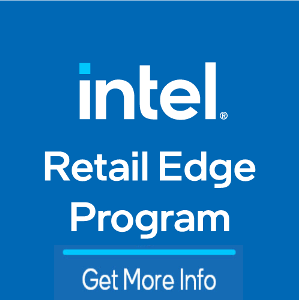 This article originally appeared here on the Intel® Retail Edge Program blog.
Notices and Disclaimers
© Intel Corporation. Intel, the Intel logo, and other Intel marks are trademarks of Intel Corporation or its subsidiaries. Other names and brands may be claimed as the property of others.