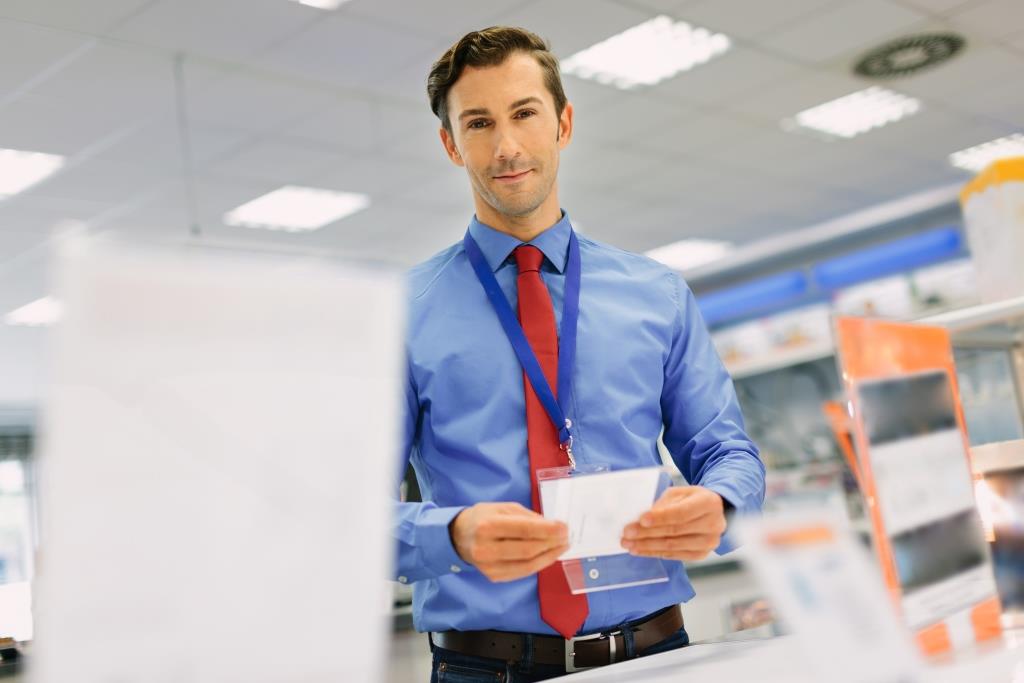 When the holiday season rolls around, your sales team will have a new wave of eager customers to assist and a great collection of PCs powered by Intel® processors to sell. The holidays can account for as much as 40% of a store's annual sales, and that figure isn't slowing down anytime soon. Deloitte projects substantial growth for the 2022 season, with anticipations of the November to January period reaching sales figures as high as $1.47 trillion.
It's peak-selling time, but is your sales team ready to take charge and boost your store's bottom line?
Strong associate knowledge about products and selling strategies is necessary throughout the year. However, it's paramount during the holidays when customers are more enthusiastic about opening their wallets and buying products that meet their unique needs.
Encouraging your team to invest their time into training could be game-changing for your holiday sales cycle. Here are a handful of ways that improved employee knowledge makes a difference.
1. Create a Better Customer Experience
Creating an impressive customer experience should always be the top priority. When your associates are knowledgeable and prepared to sell, they can guide customers through the sales process and create a friction-free experience.
It's about building brand loyalty. When your team can anticipate customers' needs and find solutions to their unique pain points, winning sales moments are bound to happen. A good customer experience matters and associate knowledge separates a successful sale from a missed opportunity. But that's not all.
Your team can use their knowledge to boost sales during the holiday season, but the improvements to the customer experience last much longer. According to a survey by KPMG, customer service and the overall shopping experience play a big part in brand loyalty. Urge your team to put in the training now, and it could lead to more brand advocacy, customer retention, and overall store loyalty!
2. Build Customer Trust
Another benefit of expanding your sales team's knowledge is that it helps build customer trust. A recent survey by Edelman shows that trust is a bigger deal to shoppers now than ever before. Roughly 68% of those surveyed said that having trust in a brand is a big part of the purchasing decision, and 40% even said that they stopped being patrons of a brand because they lost trust in it. No one wants to buy from someone they don't feel understands their needs.
Most customers these days have some knowledge about what they want. A study by GE Capital Retail Bank showed that 81% of customers conduct online research before setting foot into a store. Now imagine if one of your associates provided entirely different information than what a customer learned on their own. That trust is out the window!
On the other hand, an associate who's well-informed and knows what they're talking about becomes a product expert customers can trust.
3. Better Communication
When your team puts time into training, finding the right words to pitch a product is a breeze. They become more confident in their role in the sales process and become empowered to approach opportunities more strategically.
Instead of focusing on products alone, your associates can lean heavily into solution-selling. That improved employee knowledge helps them sell a product's benefits and find solutions to the customer's needs.
4. Associate Confidence and Engagement
Better knowledge can do wonders to improve employee engagement. Let's face it: It isn't easy for some associates to put themselves out there and dominate the sales floor. Seasoned employees eventually develop a groove and become more engaged in their jobs.
But what about newer associates or seasonal employees? Lengthy ramp-up times are impractical in a retail setting. Just-in-time training helps them get there. Associates can quickly access the training they need to be successful and engaged
It's about empowering your team with knowledge and giving them the tools to succeed during the often-chaotic holiday season. When associates feel confident in their abilities, they'll become more active and engaged in their work.
5. Efficient Objection Handling
Objection handling is a powerful sales skill that comes naturally with more employee knowledge. Every customer who walks through your doors has some interest in making a purchase. But, they also likely have objections that result in hesitation.
Your team's biggest challenge is addressing those objections and making customers feel confident enough to pull the purchasing trigger. Objections can run the gamut from a lack of need to not understanding what a new PC can do. Whatever the case, knowledge is the ultimate tool in addressing those concerns.
Training allows your team to learn everything there is to know about your products, ensuring that they have an answer to every objection they encounter.
6. Understanding the Competition
They might not realize it outright, but most customers perform competitive analysis before making a significant purchase. It's the act of "shopping around." In addition to looking at what your store offers, they're checking out your biggest rivals.
Here's where employee knowledge comes in handy. When your team fully understands what your products can do, they're equipped to stay one step ahead of the competition. They can easily compare equivalent products on the market, highlighting how yours are better suited to meet a customer's needs.
7. Top-Notch Teamwork
Sales is often a collaborative effort despite how it seems when associates are on the sales floor. Teamwork is crucial throughout the year, but the holiday season presents new challenges. Your store likely has to bring in new seasonal employees, and your associates can play a big part in preparing them for the hectic sales experiences ahead.
Your existing team can use training to brush up on efficient sales techniques while learning about new products and technologies lining your shelves. Meanwhile, new employees will take similar courses to get up to speed. Associates need to rely on one another to make the selling season as profitable as possible.
Top-notch training and improved employee knowledge ensure that your entire team can work collectively. They can share tips, provide guidance on sales strategies, and be a lifeline to associates who need a little help.
8. Easier Upselling and Cross-Selling
Upselling can dramatically increase profits during the holiday sales period and help your team soar past sales goals. The best way to upsell and cross-sell is to know everything there is to know about a product.
A well-trained associate will know what extras a computer needs. They can recommend valuable peripherals, add-on services, protection plans, and more.
Training empowers your associates to create compelling cases of why those extras are necessary. Knowledgeable sales associates have little difficulty encouraging customers to purchase products or technologies they didn't even know they needed.
In Sales, Knowledge is Power
Don't let your team miss opportunities this holiday sales season. Invest in associate training and see how big of a difference knowledge can make. Holiday sales can be one of the most profitable times of the year. Why not push your sales potential further? Equip your team with the knowledge they need to succeed, and you'll have the best year yet!
The Intel® Retail Edge Program is an innovative training program that helps your associates learn all they need to know about Intel® technologies and the PCs they power. The Program keeps your team engaged through interactive content, captivating multimedia lessons, gamification elements, and more.
Learn more about the Intel® Retail Edge Program today and experience the benefits of more employee knowledge firsthand.
Notices and Disclaimers
© Intel Corporation. Intel, the Intel logo, and other Intel marks are trademarks of Intel Corporation or its subsidiaries. Other names and brands may be claimed as the property of others.