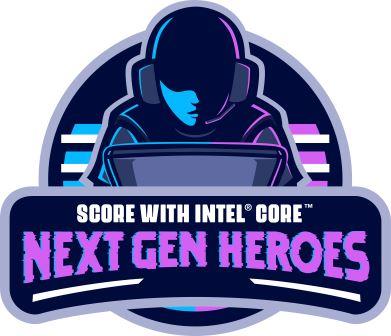 Customers are back, and so is our most popular learning campaign, Score with Intel® Core™! In just a few days, the Intel® Retail Edge Program will kick off Score with Intel® Core™: Next Gen Heroes.
The competition has all the elements loved by associates, retailers, managers, and local schools.
Provides opportunities for individual and store-level prizing

Inspires team building among store associates

Delivers valuable product and sales knowledge

Allows managers to nominate local K-12 schools to receive technology grants of up to $25,000

Supports technology needs of winning schools

This year's Score with Intel® Core™ has also evolved to address the current retail environment. This new environment requires more awareness and agility from retailers.
This makes employee product and sales training critical, and Score with Intel® Core™ is designed to deliver. The competition will get your team ready for the Back-to-School season with:
7 weeks of FUN, focused training – less than 15 minutes a week!

3 new trainings each week – only 3-5 minutes each!

Quick daily quizzes - reinforces learning!

Plus, there are weekly Drawings and amazing Grand Prizes1 for winning associates and stores!
From new customer buying behaviors and in-store shopping expectations to reimagining workforces and maintaining brand loyalty, managers rely on sales associates and partner training like never before.

Give Back to Your Local Community
We talk a lot about customer loyalty and repeat customers. Retailers would have a difficult time without the support of their local communities. Most businesses seek out ways to give back to their local communities. Score with Intel® Core™ can help.
During the competition, a manager nominates at least one local K-12 school to win up to a $25,000 technology grant should their store win. As a direct result of manager nominations made during ten years of Score with Intel® Core™, Intel has donated more than $5 million to local schools.
These donations have helped winning schools fund technology initiatives, such as adding PCs to their computer libraries, funding Makerspace and Steam Labs, and installing security devices to help protect students and staff.

Educate, Engage, and Motivate Your Sales Team
The Intel® Retail Edge Program provides a thriving community where associates can interact with peers, earn rewards, learn about the latest Intel® processors and technologies, and get great sales tips. While these benefits are available in the Program throughout the year, everything gets amplified during Score with Intel® Core™ to:
Better educate your sales team

Improve customer engagement and satisfaction

Motivate and reward sales associates

Increase store revenue and sales of premium SKUs

Support your local community

Galvanize Your Team
It seems Score with Intel® Core™ brings out the inherently competitive nature of salespeople. We've found through the years that while competition for individual prizes and rewards is fierce, everyone bands together to strengthen, help, and motivate their entire team.
Participating retailers tell us they can't put a price on that type of training, team building, and community giving.
By participating in Score with Intel® Core™, your store can:
Celebrate top individuals

Win as a team

Give to your local community as a store

Improve your store's ability to sell up and sell more

So, get your associates ready to be Next Gen Heroes!
Here are the important dates to remember:
Now until June 20 – Three Score with Intel® Core™ 101 trainings available. Make sure your associates are ready to compete by taking these trainings before the official June 20 start date!

June 17 - Score with Intel® Core™ live Webcast from ESPN Wide World of Sports Complex (Registration for the Webcast will go live on the Intel® Retail Edge Program, beginning June 6).

June 20 – Competition begins, and Managers can nominate schools.

August 8 - Score with Intel® Core™ competition ends.

Become a Next Gen Hero
Score with Intel® Core™ presents an amazing opportunity for retail managers to support, engage, and impact stores, associates, customers, and local communities. Get your team on board and become Next Gen Heroes by participating in this year's competition.
Head over to the Intel® Retail Edge Program for the latest information.
Notices and Disclaimers
© Intel Corporation. Intel, the Intel logo, and other Intel marks are trademarks of Intel Corporation or its subsidiaries. Other names and brands may be claimed as the property of others.
1 Members are responsible for any and all Federal, state, local, or other tax liabilities with acceptance of prizes. Please read the Competition Terms and Conditions for complete rules.