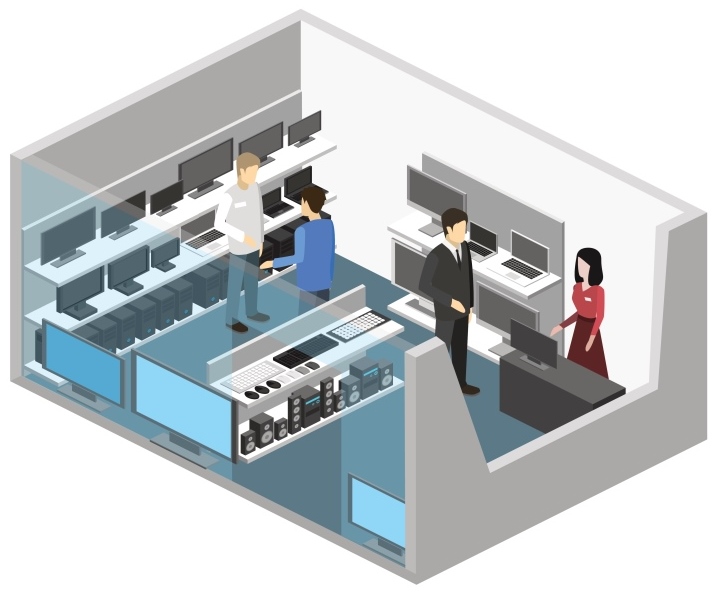 Making the customer buying experience as smooth and easy as possible can increase sales and brand loyalty. Removing friction points during the sales process is critical to ensure the best experience for each customer who enters your store.
The right product and sales training are critical to helping your sales associates present the most accurate information and deliver the most immersive buying experience for your customers.
Here are four key areas that can potentially derail sales, along with tips for keeping customers engaged and in the frame of mind to buy.
1. Making Initial Contact
Initial impressions are important, but the first contact with customers may not be in the physical store. In a Google retail survey, 74% of respondents say they search for products online before going to the store to shop. This includes searching for the closest store, available stock, directions, and more.
These additional search parameters speak directly to this important statistic from a RetailNext survey; 84% of consumers think retailers should be doing more to integrate their online and offline channels.
Are your digital and physical channels integrated to deliver an exceptional customer experience? Customers who enter your stores experience a seamless shopping experience when they are. Central to this are your sales associates.
The Intel® Retail Edge Program provides tools that will help your reps take customers seamlessly from online research to in-store purchases:
Engaging the customer immediately and in a warm and relatable way
Demonstrating expertise regarding the PCs and product add-ons
Recommending the best computer based on the needs of the customer
The right first impression can be critical to your store's reputation and success. Comprehensive training is essential to delivering an integrated customer experience.
2. Delivering Accurate and Timely Information
One of the main reasons people shop in stores is to touch and feel the products they want to purchase. Fact tags provide only so much information on the laptops and desktops on your store shelves. Customers look to your sales associates for more detailed information about how they will use a computer.
Nothing can stir up a little friction like an "I don't know" response from an associate to a customer's question. There are new and exciting Intel® products and technologies for customers, and your sales team should be knowledgeable about them.
Giving your team the right tools and training positions them as expert advisors in this competitive retail marketplace. The Intel® Retail Edge Program provides engaging training content that educates your sales staff and inspires them to share it in an engaging and inspired way with your customers.
3. Helping Customers Make the Right Choices
Listening to customers is the most important thing sales associates can do to facilitate selecting the best computer. By taking the needs and priorities of customers into account when presenting the available options, associates can offer the optimal recommendation and build a solid rapport. This can lead to increased sales and enhanced brand loyalty.
Confidence is also important when presenting PC options or add-on recommendations to customers. Training is one of the most effective ways to help sales associates develop self-confidence. The Intel® Retail Edge Program offers training activities and sales tips that provide targeted information your team needs to present their ideas effectively when interacting with customers on the salesfloor.
4. Making Payment Easy
Many of us have experienced a chip card or magstripe malfunction while in the checkout line. It doesn't just cause friction; it can cause a lot of frustration for you and the shoppers behind you, particularly if it's not a quick fix.
According to a Shekel survey, 87% of consumers prefer to shop at stores with touchless or robust self-checkout items. Contactless and mobile payment options are continually on the rise. These technologies make it easier than ever for customers to complete their purchases.
Adding mobile options for coupons and special offers can also deliver a more positive experience for customers and drive loyalty to your brand and store.
Ensure your sales staff know how to navigate the point-of-sale options to reduce stress during the checkout process.
Friction-Free In-Store Shopping
By delivering an integrated experience across channels, retail managers can provide comprehensive customer support and friction-free in-store shopping.
Give your sales associates the tools to succeed and boost their productivity on the salesfloor. The Intel® Retail Edge Program delivers amazing training experiences as associates learn about the latest Intel® products and technology. Discover more about the Program and how it can help create seamless and successful customer experiences.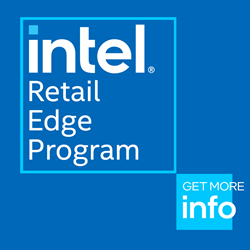 This article has been updated. You can view the original version here.
Notices and Disclaimers
© Intel Corporation. Intel, the Intel logo, and other Intel marks are trademarks of Intel Corporation or its subsidiaries. Other names and brands may be claimed as the property of others.