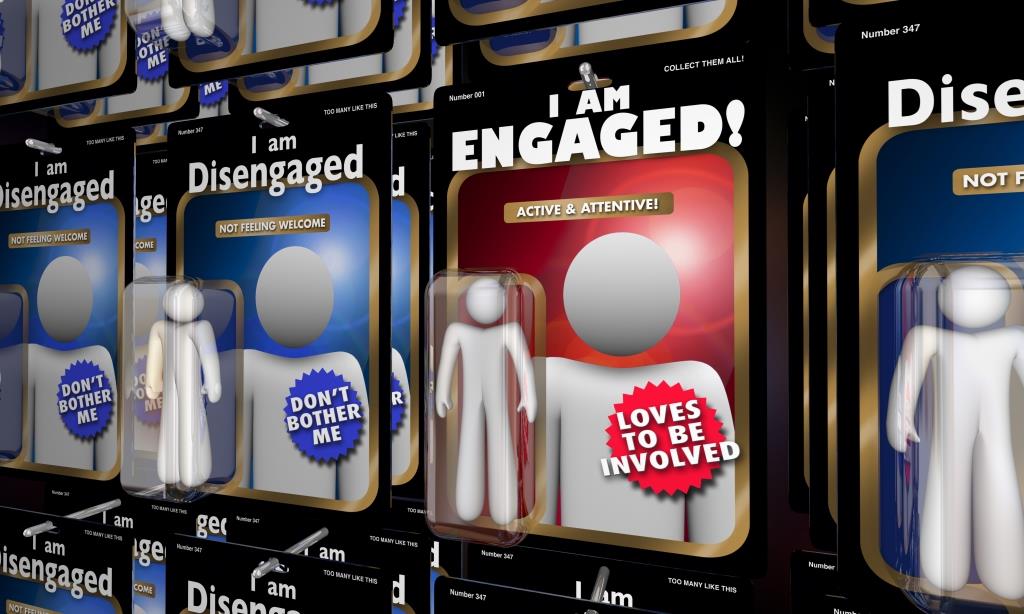 If you've heard different interpretations of employee engagement, don't feel alone. It can mean many things to many people. Some may say it focuses on how committed employees are to the mission and goals of the company. Others may cite how satisfied employees are with their work. There are plenty of other definitions in between.
Whatever your working definition of employee engagement, one thing is clear: if employees are not engaged, it's time to make some changes. Those changes will often begin with you.
Disengagement Versus Having One of Those Days
One of the first things that you should understand is that disengagement is different from an associate having a bad day. We've all had this kind of day. It doesn't mean a lack of engagement; it simply means that today isn't going to be among the best. Tomorrow is likely to be a different story.
How do you know that the employee is disengaged rather than having one of those days? Continuity is a good sign. A string of bad days indicates the development of a pattern that should be addressed.
How Prevalent is Disengagement?
A Gallup poll indicated that the percentage of disengaged employees has averaged 70% for almost 20 years. Compare this to research showing that 71% of managers feel that employee engagement is critical to their company's success. Clearly, there is work to be done to better engage employees.
Several factors contribute to disengaged staff. Some of these include:
Lack of training
Lack of recognition
Lack of leadership
Lack of communication
Lack of trust
Over time, these perceived "lacks" will begin to manifest in several different ways.
The Ways That Disengagement Impacts Everyone
Disengaged associates do have an immediate impact on the team. Past that, there's a ripple effect that impacts everyone from the manager to the customers. To help you understand how disengagement permeates throughout the organization and ultimately affects the company sales, the environment for the entire team, and customer experiences, here are three examples to consider.
1. A Dip in Sales and Overall Lower Profits
It's a basic fact that engaged associates generate more sales than those who feel disengaged. Customers are less interested in interacting with associates who are unable to answer questions about products or don't seem to care if they find what they need or not. That may even motivate customers to take their business elsewhere instead of interacting with an associate who isn't interested in helping them.
While sales may dip, operational and other expenses continue. The result is that lower gross profits lead to lower net profits. No business can continue for long without associates who care, know a great deal about the product line, and interact well with customers.
Sales associates who enjoy their jobs, feel valued by management, and know their products have a positive effect on overall profitability. They keep customers coming back and buying other things that they need. They also create a welcoming environment that customers look forward to visiting. That does a lot to keep sales and profits higher.
2. Lower Morale and Effort
While most teams can hold up well if someone is having a bad day, a perpetually disengaged associate can bring down the morale of the entire team. The sluggish response slows down implementing essential changes and making the most of new initiatives.
In general, other associates may begin to feel unhappy about taking up the slack of someone who is doing the bare minimum. That further erodes morale and paves the way for more disengaged employees.
3. High Turnover Rate
Disengaged employees generally leave the company. Some of them decide to resign and seek opportunities elsewhere. At other times, the low productively level and the apathy surrounding engagement with customers may lead to managers deciding a change is needed in their employment status. Either way, that means an increase in employee turnover.
Turnover requires companies to invest more money in screening, hiring, and training employees to take the place of departed associates. The process can take weeks or even months in some cases. In the meantime, a substantial amount of money is invested in each new hire. From a financial standpoint, looking to keep associates engaged, happy, and productive is in the best interests of everyone.
Facing and Overcoming Employee Disengagement
The reality is that a small number of disengaged associates will eventually move on. For the rest, how do you deal with employee disengagement and minimize the potential for losses? The following three strategies can help a great deal:
1. Offer the Best in Employee Training
Sales associates require training in everything from products to policies and procedures. Tips that aid in building rapport with customers, closing sales, and maintaining an environment that customers find welcoming should also be part of that training. All of these elements come together and help build confidence within individuals and among the team.
Remember that the initial training is not enough. Offering ongoing training helps to further hone associate abilities, provide motivation and empowerment, and reduce the risk of employee burnout that can lead to higher turnover.
2. Make Sure Communication Flows Both Ways – And That Everyone is Listening
Your associates work on the front lines and often have input that turns something good into something extraordinary. That can't happen if no one is listening.
According to one report, 70% of employees don't share their work experiences and ideas for improvements because they feel their employers won't listen. Those who answered "yes" to questions such as, "At work, my opinions seem to count," and "I receive recognition or praise for doing good work" are more motivated and engaged. Those employees are more likely to offer suggestions and are typically more willing to engage in ongoing discussions about how they can improve the work environment.
Managers should implement ways for associates to make suggestions. They should also be proactive and regularly ask for tips and feedback. An open line of communication will go a long way toward keeping all the associates feeling valued and engaged.
3. Take Team Building Seriously
Team building is a process rather than an event. Schedule in time for intentional sessions with your sales associates. It can happen weekly, monthly, or whatever frequency works in your setting. This time can be used for things like training on new products, discussing suggestions, planning for upcoming seasonal sales, and anything else that would require a group effort. Doing so maintains trust and a sense of belonging among the associates and strengthens the ties with managers.
The Importance of Training to Engagement
While many businesses believe training for building technical and professional skills is important, some may not supply the type of training needed. What does this difference between the perceived urgency of training and what training is actually offered have to do with engagement? It could mean quite a bit in terms of empowering associates to do their jobs.
Training that doesn't occur or is inadequate can lead to employee frustration and a sense of not feeling valued. These feelings can manifest in disengaging from the sales team, less effort, and poor customer interactions. Even one associate who feels this way can weaken the overall effort of the team.
By contrast, retail sales managers using innovative and creative measures to keep new and seasoned sales associates engaged reap many rewards. Along with happy employees, there will also be many more satisfied customers.
Engage Associates with Interactive Training
Well-designed training programs provide sales associates with the product knowledge they need and generate excitement around learning. The Intel® Retail Edge Program is a dynamic training program and online community that gives retail sales associates and managers a chance to learn about the Intel® products and technologies and interact with their peers.
The Program engages members through interactive courses, articles, videos, sales tools and tips, webinars, and more. It's a great way to re-connect sales teams and rediscover the magic of using and selling exciting new PCs.
Encourage your sales associates to become a member of the Intel® Retail Edge Program today.
Find out more information at the Intel® Retail Edge Program website.
This article has been updated and originally appeared here.
Notices and Disclaimers
© Intel Corporation. Intel, the Intel logo, and other Intel marks are trademarks of Intel Corporation or its subsidiaries. Other names and brands may be claimed as the property of others.