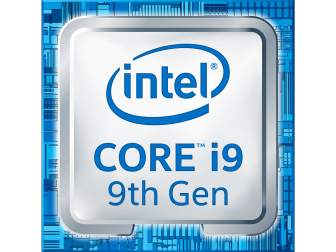 The release of 9th Gen Intel® Core™ H-series processors creates more sales opportunities for customers who want desktop performance in a mobile device.1 These processors were designed with gamers and creators in mind, but there's a processor for every computing need in this family.
There are currently 130 million PC- based content creators and 2.3 billion PC gamers who need the performance and responsiveness to handle taxing workloads and demanding AAA games.1 These new processors will make great recommendations for your on-the-go customers who are interested in gaming, recording, streaming, video editing, and more.
Meet the Needs of Mobile Gaming Customers
Today, gamers are likely the most demanding of customers when it comes to laptop purchases. Gamers require best-in-class technology and since there are more gamers today than ever, this opens the door for your sales associates to meet the demands of these customers.
The 9th Gen Intel® Core™ H-series processors address the growing needs of the gaming community. With up to 8 cores and 16 processing threads, these processors are able to run multiple resource-heavy applications at a time.1 This is perfect for streaming, recording, and gaming.
Cut Loose Creative Customers
Video editors and computer graphics artists are going to find these new Intel® Core™ processors liberating as they use them on-the-go. They can leave their desktops behind and let their creative juices flow to render and edit videos without missing a beat.
Capabilities such as rendering and encoding in the background and exceptionally fast load times of project files and apps create the perfect opportunity for your sales associates to recommend device upgrades to customers.1
Promoting New Devices Powered by Intel
The technology and performance strides of 9th Gen Intel® Core™ processors can create significant opportunities for your sales team. In the case of these new Intel® Core™ H-series processors, sales associates should be aware of:
Consumer demographics – The United States is slated to overtake China this year as the world's largest gaming market by revenue. It is projected that the U.S. gamers market will generate almost $37 billion this year alone.
9th Gen Intel® Core™ processors are designed with gamers in mind and should be marketed to those who are interested in having state-of-the-art entertainment, gaming, and streaming devices. Gamers are often concerned not only with visual graphics, but also the speed of the rendering, as frame rates directly impact their enjoyment of the game.
Comparative statistics – The upgrade potential for some customers with older devices can be considerable with this new generation. Sales associates should keep this in mind, particularly when interacting with those who simultaneously stream and game, a growing demographic.
Changing system requirements - A case can be made that games are becoming more difficult for older devices to run, and progressively demand more system resources. Sales associates should ensure that customers know that a 9th Gen Intel® Core™ processor will run AAA games, even while recording and streaming, with crystal clear resolution and high frame rates.1
Associates can also leverage key features and Intel® technologies to further pique the interest of customers who want to capably compute on-the-go:1
Intel® Turbo Boost Technology 2.0 – accelerates processor and graphics performance for peak loads

Intel® Hyper-Threading Technology – delivers two processing threads per physical core for getting more work done in parallel

Intel® Smart Cache – dynamically allocates shared cache to each processor core, based on workload, reducing latency and improving performance

Integrated Memory Controller – offers stunning memory read/write performance

Intel® UHD Graphics – play 4K UHD videos with exceptional clarity, view/edit smallest details of photos, and play today's modern games

Intel® Optane™ Memory H10 with Solid State Storage – combines the latest solid-state drive storage technology with Intel® Optane™ memory
Great Opportunity for More Laptop Sales
New technology drives sales and it's important that your team understands the benefits and how to communicate them to customers in your store. There are many gamers, creators, and other customers who will be interested in upgrading their laptops to one with a 9th Gen Intel® Core™ H-series processor when your associates let them know they can deliver desktop performance in a mobile form factor.1
Ensure your sales associates have access to the most up-to-date information about Intel® processors and the devices they power by encouraging them to participate in the Intel® Retail Edge Program.
Find out how our partner retailers are leveraging the Program to sell more devices and create better customer experiences.

Legal Disclaimers
1 Software and workloads used in performance tests may have been optimized for performance only on Intel® microprocessors. Performance tests, such as SYSmark* and MobileMark*, are measured using specific computer systems, components, software, operations, and functions. Any change to any of those factors may cause the results to vary. You should consult other information and performance tests to assist you in fully evaluating your contemplated purchases, including the performance of that product when combined with other products. For more complete information visit www.intel.com/benchmarks.
Intel technologies' features and benefits depend on system configuration and may require enabled hardware, software or service activation. Performance varies depending on system configuration. No product or component can be absolutely secure. Check with your system manufacturer or retailer or learn more at http://intel.com.
©Intel Corporation 2019. Intel, the Intel logo, Intel Retail Edge Program, Intel Core, and Intel Retail Edge Live are trademarks of Intel Corporation or its subsidiaries in the U.S. and/or other countries.
*Other names and brands may be claimed as the property of others.