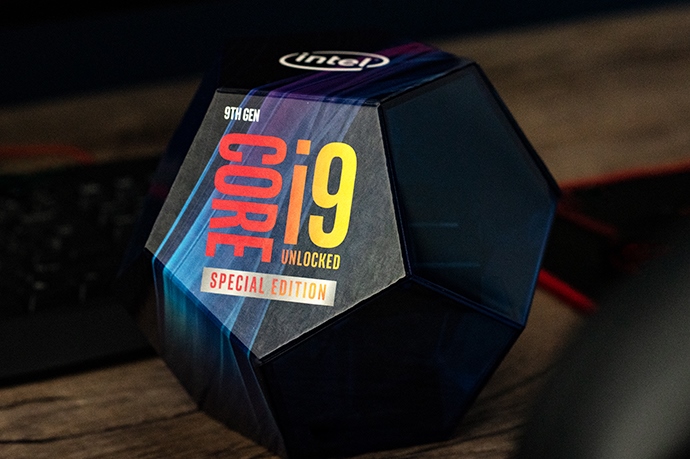 Enthusiasts who shop in your stores can take their game to new levels with the Intel® Core™ i9-9900KS Special Edition processor. Taking a step up from the Intel® Core™ i9-9900K processor, this 9th Gen powerhouse has special features to appeal to your gaming customers.1
When compared to the Intel® Core™ i9-9900K processor, the Intel® Core™ i9-9900KS Special Edition processor has a bump in unlocked2 base frequency from 3.60 GHz to 4.0 GHz. Both processors have a max turbo frequency of 5.0 GHz1, along with 8 cores and 16 threads.
The big difference between these two processors is that all eight cores of the Intel® Core™ i9-9900KS Special Edition processor can be boosted simultaneously.2 This capability allows games to run faster when they scale across more cores for higher frame rates.1
The Intel® Core™ i9-9900KS Special Edition processor is a great addition to options available to help increase sales during the holidays.
Great Features
This Special Edition processor retains the many advanced features of the Intel® Core™ i9-9900K processor as well, including1:
Intel® Optane™ memory support for accelerated system performance and responsiveness
Intel® UHD Graphics 630 for detailed, immersive visuals
Intel® Turbo Boost Technology 2.0 for a burst of speed when it's needed
Intel® Hyper-Threading Technology for running multiple apps at the same time without lagging
Your associates should mention that it provides gamers with a simple way to overclock with the Intel® Performance Maximizer.2 This tool dynamically custom tunes the unlocked processor based on its individual performance DNA3 and is popular among enthusiasts and those new to overclocking as well.
Limited Availability
The Intel® Core™ i9-9900KS Special Edition processor is available in a limited quantity, so when they're gone, they're gone.
Make sure your associates are aware of this special edition release. It delivers an enhanced gaming experience to customers and adds to the exciting tech products available during this peak sales season.
Your sales associates can keep up with the latest Intel® products and technologies by participating in the Intel® Retail Edge Program. Find out how the Program can positively impact your team and your bottom line.

Legal Disclaimers
1 Software and workloads used in performance tests may have been optimized for performance only on Intel® microprocessors. Performance tests, such as SYSmark* and MobileMark*, are measured using specific computer systems, components, software, operations, and functions. Any change to any of those factors may cause the results to vary. You should consult other information and performance tests to assist you in fully evaluating your contemplated purchases, including the performance of that product when combined with other products. For more information go to www.intel.com/benchmarks.
Intel® technologies' features and benefits depend on system configuration and may require enabled hardware, software, or service activation. Performance varies depending on system configuration. Check with your system manufacturer or retailer or learn more at intel.com.
2 Altering clock frequency or voltage may damage or reduce the useful life of the processor and other system components, and may reduce system stability and performance. Product warranties may not apply if the processor is operated beyond its specifications. Check with the manufacturers of system and components for additional details.
3 Some features may only be available with the latest version of Intel® Performance Maximizer. Visit downloadcenter.intel.com to download the latest version. Eligible processors include 9th Gen Intel® Core™ i9-9900K, i9-9900KF, i9-9900KS, i7-9700K, i7-9700KF, i5-9600K, i5-9600KF processors, and Intel® Core™ i9-10980XE Extreme Edition, i9-10940X, i9-10920X, and i9-10900X processors.
©Intel Corporation 2019. Intel, the Intel logo, Intel Retail Edge Program, Intel Core, Intel Optane, and Intel Retail Edge Live are trademarks of Intel Corporation or its subsidiaries in the U.S. and/or other countries.
*Other names and brands may be claimed as the property of others.