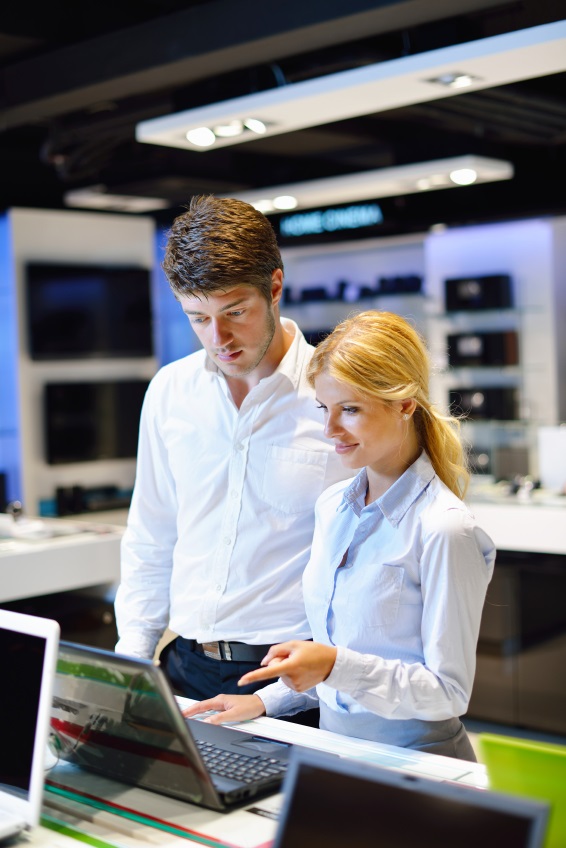 Upselling (or selling-up) is a valuable technique for increasing the profit margin of any retailer. It's also a sales skill that's embedded in product knowledge. If your sales associates lack knowledge about the products they sell, it can be difficult for them to recommend a value device, much less a better-performing product.
Do you know how knowledgeable your sales team is? Do they know about the devices your store carries, or how to approach a customer to better understand their needs? What about closing a sale? Unfortunately, incomplete product and sales training programs may be holding back your store's upselling potential. As a manager, you can help correct this problem.
Why Does Upselling Matter?
At first, it seems obvious—successful upselling increases revenue and profit. For sales associates and departments that must meet specific quotas on a regular basis, successful sell-ups also help achieve those goals.
In addition, upselling can provide other benefits, such as enhancing the customer experience. Done correctly, it can readily improve your customer relationships.
When associates know how to get the right information from their customers, they can recommend a device that will meet their needs, and then provide more information about models that might serve them better. Whether they suggest a better-performing processor, or a more exciting form factor, upselling can provide an exceptional experience for the customer, creating loyalty and repeat sales.
Product Training Improves Upselling
Most retail organizations have standardized training programs that convey the importance of upselling. These often include critical sales tactics such as understanding how to recognize an opportunity to sell-up and deliver the "ask." However, product training isn't always incorporated into employee upsell training even though it should be.
Sales associates who have intimate familiarity with the devices they're selling are in the best possible position to:
Identify which features will most likely excite a particular type of customer.
Determine which upgraded devices they should sell up to.
Understand how to craft a clear, personalized value proposition for each prospective customer.
Employees who have a deep understanding of each device and device family are better equipped to determine whether it makes sense to sell-up a customer from a value-priced laptop to a state-of-the-art 2 in 1 device, for example.
Dynamic programs integrating both product and sales training also help your team understand when a more conservative approach, such as cross-selling, is necessary. For example, it might be more prudent to recommend the purchase of a Bluetooth speaker to go along with a value-priced device rather than using sell-up techniques for the budget-minded prospective customer.
Keeping Pace with Device Updates and Releases
Upselling efforts need to keep pace with a rapidly changing retail environment as new devices and technologies are updated and released. As soon as new products hit the market, your sales associates must be ready to explain them to customers who have widely variable levels of knowledge.
Organizations that invest in and promote ongoing product training for their sales teams don't need to navigate a hasty ramp-up period when new devices and technologies hit the sales floor. Instead, they're positioned to capture far more upselling opportunities from the get-go.
Merge Your Product Training and Employee Upsell Training Efforts
The Intel® Retail Edge Program is an engaging training program that leverages videos, articles, and interactive coursework to teach retail sales associates and management-level staff about the full lineup of Intel® products. There are also tools and tips for sales best practices and customer interactions.
As participants learn about new devices and earn Chips for passing knowledge quizzes, they'll quickly morph into the "upselling machines" your sales floor needs.
Learn more about the Intel® Retail Edge Program and how its dynamic training platform prepares your sales team for success!

References:
*Other names and brands may be claimed as the property of others.
© 2015, Intel Corporation. All rights reserved. Intel, the Intel logo, Score with Intel Core, and Intel Retail Edge Program are trademarks of Intel Corporation in the U.S. and other countries.