When your customers want to know about the differences they will experience when upgrading their older laptop or desktop PC to the new 5th generation Intel® Core™ processors, can your staff quickly provide them with tangible evidence of improvements?
It's important that sales representatives know the features and functionalities provided by each of the new processors in order to help their customers make informed decisions based on what's best for their needs.
Know the Benefits of the Intel® 5th Generation Processors:
Higher performance at lower power levels allowing applications to run faster with sleeker designs.

Lower average power giving longer battery life capability.

Increased 4K UHD display support including 4K Intel® Wireless Display capability.

DirectX 12 ready for future gaming capabilities and performance increases.

Provides the performance required for innovative features like 3D cameras used for immersive collaboration, scanning and sharing objects, gesture control, and gaming.

Increased graphics performance for more realistic gaming experiences.
This graphic shows some performance numbers+ when a 5th generation Intel® Core™ processor is compared to an older PC++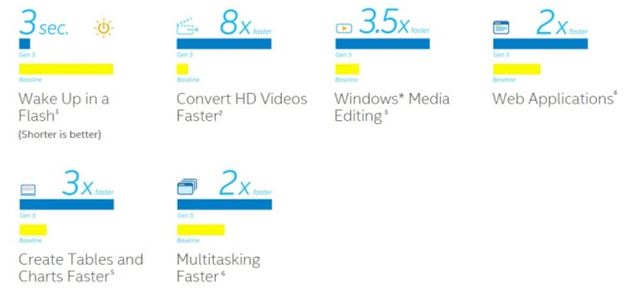 Recommend the Best Processor to Each Customer's Need

Understanding your customers' needs and wants is essential when making processor suggestions. Two of the most important questions sales reps should ask are, "Who is this product for?" and "What will it be used for?"
Having a better understanding of who will be using the product and the functionality needed based on use makes a processor recommendation much easier.
Armed with the right information, reps can guide the customer in making the appropriate choice. Here's a quick overview of some of the new 5th generation Intel® Core™ processors. Sell up from each one for a better-performing processor.
Intel® Celeron®
Provides impressive performance for basic home or office computing
Intel® Pentium®
Provides great performance for everyday tasks
Intel® Core™ i3
Provides amazing performance and stunning visuals
Intel® Core™ i5
Provides amazing performance and stunning visuals, but with a boost
Intel® Core™ i7
Provides maximum performance for demanding tasks and full-on gaming
Intel® Atom™
Provides performance for lightning-fast browsing and extraordinary battery life
Use the Best Training Tool for Success

Through Internet research, customers are more informed than ever and use their knowledge to narrow down choices prior to purchase. Therefore, it's crucial for sales representatives to be equipped with the best information possible when communicating the advantages of upgrading to the latest Intel® 5th Generation processor that best fits their customers' needs. This leads to increased customer satisfaction and company sales.
The Intel® Retail Edge Program is designed to provide resources and educational tools regarding Intel® products to electronic retail sales professionals as well as certification and rewards for participation.
Encourage the sales staff at your organization to take advantage of these benefits and increase their success by joining the Intel® Retail Edge Program today. Click here to find out more information.
References:
+Software and workloads used in performance tests may have been optimized for performance only on Intel® microprocessors. For more complete information about performance and benchmark results, visit www.intel.com/benchmarks and http://www.intel.com/performance.
++"Older PC" refers to ~5-year old: Intel® Core™ i5-520UM processor (up to 1.86 GHz, 4T/2C, 3M cache) on Acer Aspire One* 1830T-3721
1Intel® Rapid Start Technology requires a select Intel® processor, Intel® software and BIOS update, and Intel® Solid-State Drive (Intel® SSD). Depending on system configuration, your results may vary. Contact your system manufacturer for more information.
2Measured using CyberLink MediaEspresso 7* HD Video Conversion—to convert a 6-minute, ~1 GB, 1920x1080p, 23738 kbps, MOV video file that one would have obtained from a smartphone. The file is transcoded to a smaller 1920x1080, 8 Mbps, H.264, .m2ts file for reduced file size during Internet transfers or for viewing on a portable device.
3Measured using HDXPRT* 2014, a benchmark from Principled Technologies that measures your device performance using real commercial applications, like Photoshop* and iTunes*, to perform tasks based on three everyday scenarios: photo editing, video conversion, and music editing. It produces an overall score. Intel is a sponsor and member of the BenchmarkXPRT* Development Community, and was the major developer of the XPRT family of benchmarks. Principled Technologies is the publisher of the XPRT family of benchmarks. You should consult other information and performance tests to assist you in fully evaluating your contemplated purchases.
4Measured using WebXPRT* 2013—a benchmark from Principled Technologies that measures JavaScript and HTML5 performance using web applications based on real world usages, like Photo Effects, Face Detection, Stocks Dashboard, and Notes. It produces results for each of the test scenarios plus an overall score. Intel is a sponsor and member of the BenchmarkXPRT* Development Community, and was the major developer of the XPRT family of benchmarks. Principled Technologies is the publisher